We woke at 4:15 am today to be ready to drive to the airport with Rick and Judy. They had a morning flight to catch. They dropped us at our hotel at Charles de Gaul Airport on their way. We were able to check in early and went straight to bed for a long nap. When we woke we were refreshed and ready to take the train in to Paris for a last visit. It was a changeable day with sunny times and rain squalls. Our first stop was the Cluny Museum. I wanted to see the Lady and the Unicorn tapestries and the other medieval art there.
When we left the museum we stopped at the Watt Cafe for a mid-day dinner. I had lamb and Arvin had duck and the food was delicious. Really yummy French cuisine. Afterwards we walked by Notre Dame and were amazed by the crowds.
It began to rain and we ducked into a place called Cafe Panis for coffee and desert. We were wise to eat inside as it began to pour outside. By the time we were finished the sun was back.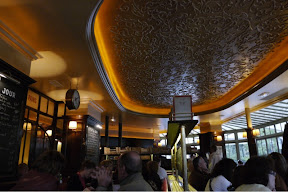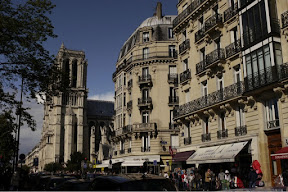 We continued to walk and bought a bag for our travel home and a T Shirt for Arvin. Finally it was time to take the train back to the hotel and get ready for our flight home tomorrow.
- Posted using BlogPress from my iPad
Location:Roissy-en-France,France