We checked out of Ruby's Inn and drove to Panguitch where we ate breakfast. from there we drove past Panguitch Lake and on to Brian Head Mountain.
It was bitter cold on top of the mountain but we had a 360 degree view. The old hut was made in the 30s. We walked around and looked at the Krumholtz trees. Those are trees who have become ground shrubs due to the severity of the weather.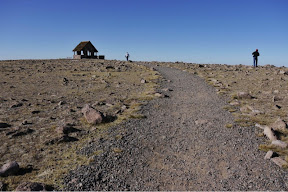 We drove down the mountain and headed to Cedar Breaks. We stopped at several lookout points and views the canyon, a kind of miniature Bryce Canyon.
Our plan was to take a road from there to Cedar City and find a small dirt road that would bring us around to the northern part of Zion. Unfortunately the road to Cedar City was closed was closed. So we drove back up past Cedar Breaks and Brian Head and kept going until we reached Cedar City. We tried to locate the road and finally did. Dave had been there before so he went by memory and finally did find the road. We passed this water fall and stream on the way to the road.
We finally found the road that took us up aspen covered hills and through ranches. It alternated between dirt and paved road and was very beautiful.
Along the road were occasional areas of volcanic material.
The aspens along the road were beautiful. Most had already dropped their leaves but were wonderful with their stark white and shadowed trunks.
We finally arrived at Kobold Reservoir and tried to drive around and over a dam. We got part way but the road became impassable. We turned around and continued on the main road. As we got lower in altitude we found trees with their fall leaves still in full color.
We finally reached the road through the northwestern part of Zion National Park. Here are Arvin, Dave and Steve in front of our dusty car.
We settled in at the Bumbleberry Inn in Springdale and spent a quiet evening eating a delicious dinner and playing games. This is what we could see from our balcony. As the sun set the color got better and better.
- Posted using BlogPress from my iPad