This morning we went to Montmartre to see Sacre Coeur and walk around the neighborhood. Christine joined us. We took the Metro and then the Telepherique up the hill to the church. There were many tourists there and some locals performing. Two men were standing atop some cement pillars at the entrance of the stairs up to the church. They were all in white and were imitating statues. They did a good job. There was also a man playing the harp. First time I've seen that instrument in a street setting.
We went into Sacre Coeur. There was a mass in progress so we listened quietly as we circumnavigated the outer area. The priest sang parts of the mass and his voice was lovely. The accompanying singers were nuns and priests. There was not a choir present.
We slipped out and located a pink cafe called "La Maison Rose" where we had espresso and a lovely cheese and bread plate.
On the way back we did a bit of shopping at a ceramics store which had interesting and unique items for sale. Outside they had a display of their work.
More wandering and then we took the metro back home. The rest of our group had arrived but were out on their first exploration of Paris. So we ate our bread, meat and cheese that we had purchased at the little local store for lunch. Now Arvin is taking a nap and I'm goofing on my iPad. We are really enjoying our visit to Paris.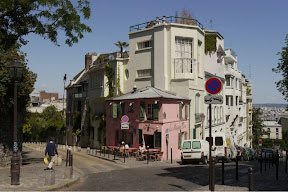 - Posted using BlogPress from my iPad
Location:Rue Gustave Flaubert,Paris,France