Photos in and around our Chateau
Caretaker's House next to our chateau
Walk in the rain along the Seine below our chateau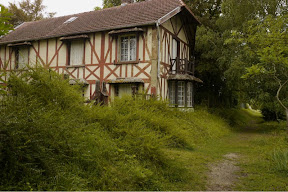 Rouen
Joan of Arc Church, built in 1979
Dinner at La Cascade in Le Vaudreuil
On the way home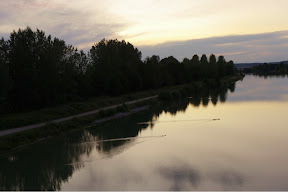 We spent a quiet morning at the chateau. I added watercolor to the sketches I'd done at Giverny yesterday and did a couple more. I took more photos around the chateau. Then I took a walk along the Seine below the chateau. It began to rain so I walked home.
In the afternoon we went to Rouen to find a cyber cafe there. We found it but its wifi wasn't working. So I just uploaded two days on Blipfoto and then joined the others to look at the Joan of Arc Church. The outside is not very promising but the interior is amazing. They had classical music playing which added to the beauty of the experience inside.
On the way home we stopped at Le Vaudreuil and ate at a La Cascade Restaurant. The food was not special but it was okay and the people were very friendly.
- Posted using BlogPress from my iPad